Stay Sober After Detox - Charlotte Detox Center in North Carolina
The first step in recovering from substance use disorder to stop taking the substance and ask for help. However, this isn't easy to do. It's even harder to stay stopped long term. Soon after stopping a substance that has been abused over a long period of time, withdrawal symptoms begin and the detox process starts. The safest way to detox from drugs or alcohol is at an inpatient detox center. These are usually staffed by healthcare professionals. They are able to monitor vitals and administer any medications that may be needed during detox. However, detox is only temporary. There's work that needs to be done in order to stay sober after detox.
Medical detox is only a short term treatment for substance use disorder as it lasts anywhere from a few days to a week. During this time, a person suffering from withdrawal symptoms due to substance abuse is tapered off of drugs and alcohol in a safe manner. This is completed with the assistance of medications. However, once detox is completed there is still the monumental task of staying sober. There are a variety of different ways to begin the road to recovery as well as maintaining it. Here are the steps you should take after detox to make sure you stay sober.
Inpatient Treatment For Alcohol and Drug Addiction
One of the most helpful methods of treatment is inpatient rehabilitation for drug and alcohol abuse. These programs typically last 30 days, but some last several months. During this time, people suffering from addiction and alcoholism are physically separated from the substances they were using. It provides a safe environment that is somewhat sheltered from the outside world. Inpatient treatment is also useful for addressing the root cause of a substance use disorder – which is the key to healing from addiction.
Inpatient treatment programs offer individuals who are suffering from drug and alcohol addiction a chance to participate in therapy. These programs include licensed counselors who can help people to identify any underlying causes of their addiction.[1] This includes addressing any past traumas or co-occurring mental health issues that might be a driving force in someone's addiction. Addressing the deep root of addiction is extremely helpful in the long term as it promotes self-awareness, encourages healing, and reduces the risk of relapse.
Inpatient therapy also gives people time to develop tools to cope with drug and alcohol use disorder. Therapy for substance abuse typically includes learning new, healthy ways to deal with stress. It also involves changing old behaviors that may have contributed to drinking.[1] In addition to inpatient therapy, some individuals may also benefit from medications to help maintain their sobriety.
Medication-Assisted Treatment For Staying Sober After Detox
Even with therapy, some individuals may still experience strong cravings for drugs and alcohol. There are various FDA-approved medications that help reduce or even eliminate cravings altogether. These medications can help aid in maintaining sobriety after detox. Common medications used in medication-assisted treatment include:
These medications, when used correctly, help to prevent a relapse by reducing any cravings that people commonly experience when they quit using drugs and alcohol. Each medication works through a different mechanism.[2] Some work by blocking any pleasurable effects that the drug would normally provide. Others act by replacing the drug entirely in a safer form that is less likely to be abused. It is important to work closely with a healthcare provider to determine which medication is best for each individuals' needs.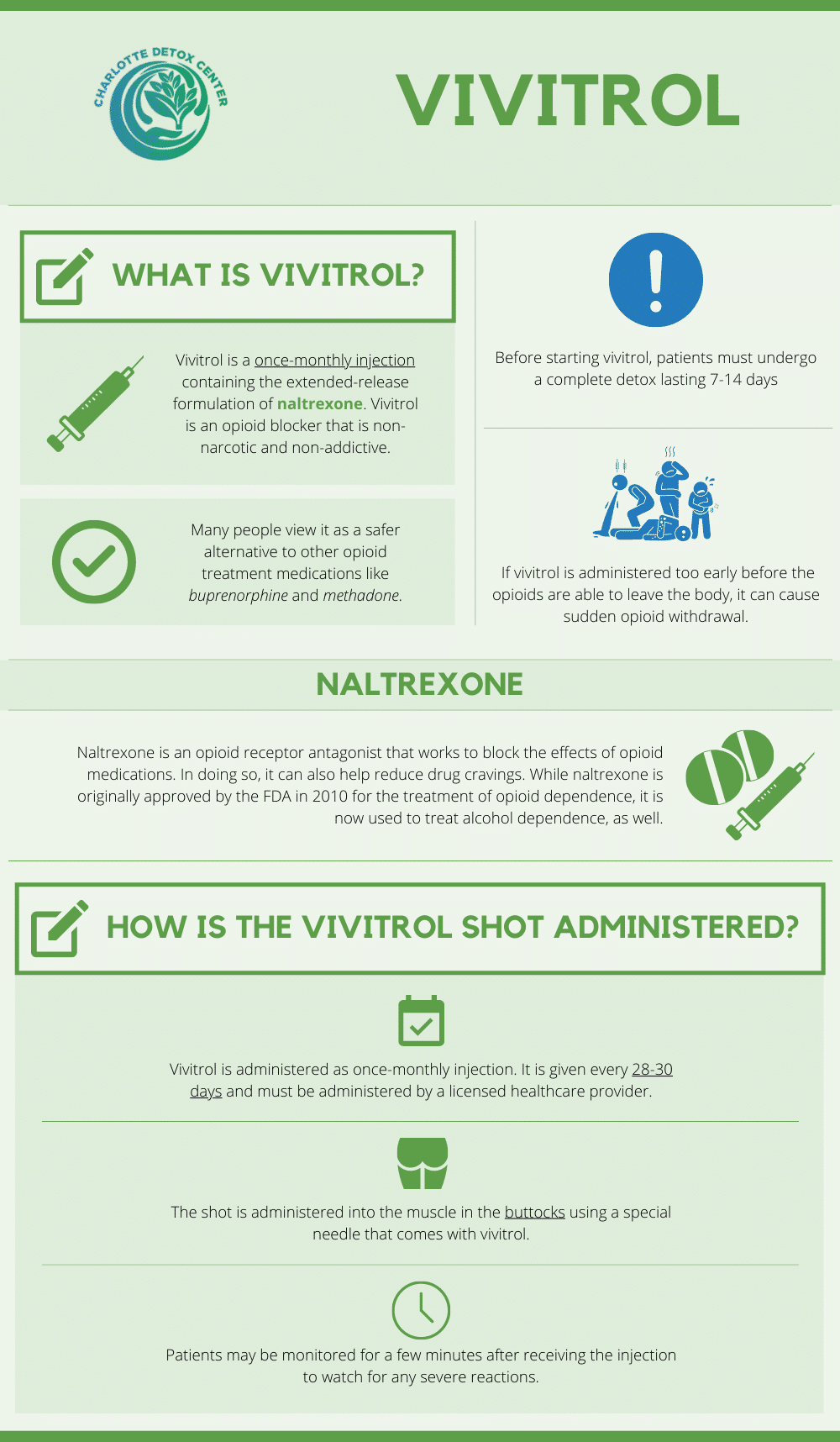 Outpatient Treatment For Alcohol and Drug Addiction
After inpatient treatment, some newly recovering individuals may decide they need extra support as they transition out of the rehab center. Intensive outpatient treatment helps that transition go more smoothly. It often includes additional therapy.
Once someone leaves an inpatient treatment center, they will often encounter obstacles or temptations that they hadn't anticipated. However, outpatient therapy provides an environment for people to discuss these difficulties and to further work on developing healthy coping mechanisms.
Continuing care often includes a transition into sober living, which is commonly referred to as halfway. In sober living, individuals in recovery live under the same roof. They provide each other with support and slowly transition back into life on their own. It provides an opportunity for individuals to develop a strong support system. This support system will be key in maintaining sobriety and will follow them once they've completed outpatient treatment as well as their stay in sober living.
Twelve-Step Programs
Most individuals in recovery often find participating in a twelve-step program very helpful in maintaining long term sobriety. These programs give people a place to meet with other individuals like themselves. It allows them to further build their support groups. It also fosters accountability, which helps to reduce the risk of relapse. Some of these programs include:
Alcoholics Anonymous (AA)
Narcotics Anonymous (NA)
Cocaine Anonymous (CA)
These programs are all centered around the 12-Steps of recovery and are the platform that many people use to prevent relapse and stay sober after detox. These steps are designed to help individuals recovering from alcohol and drug abuse work on bettering themselves. It also allows them to build a sense of community and begin to feel a part of something.
Learn How to Stay Sober After Detox
Our detox in Charlotte, North Carolina can help get people suffering from addiction on the right track. We have staff who are ready and eager to help you through the detox process. Starting the journey to recovery is the hardest part, but our North Carolina drug and alcohol detox center is here to make the process as easy and comfortable as possible to ensure the recovery process can be successful. Contact us today to learn more.
Medically Reviewed: April 25, 2022
Medical Reviewer
Chief Editor
About
All of the information on this page has been reviewed and verified by a certified addiction professional.
Dr Ashley Murray obtained her MBBCh Cum Laude in 2016. She currently practices in the public domain in South Africa. She has an interest in medical writing and has a keen interest in evidence-based medicine.
All of the information on this page has been reviewed and verified by a certified addiction professional.