Vivitrol Treatment Program in Charlotte, NC - Drug & Alcohol Detox Center
Opioid addiction and alcoholism are devastating and difficult addictions to overcome. Medication-assisted treatment (MAT) programs aim to help patients beat their addictions with the help of FDA-approved medications and evidence-based therapies. One commonly used medication during addiction treatment is Vivitrol. As a monthly injection that is not habit-forming, it is ideal for patients who have a history of misusing their medications or having poor medication adherence. Here is what patients can expect from Vivitrol treatment in Charlotte, North Carolina.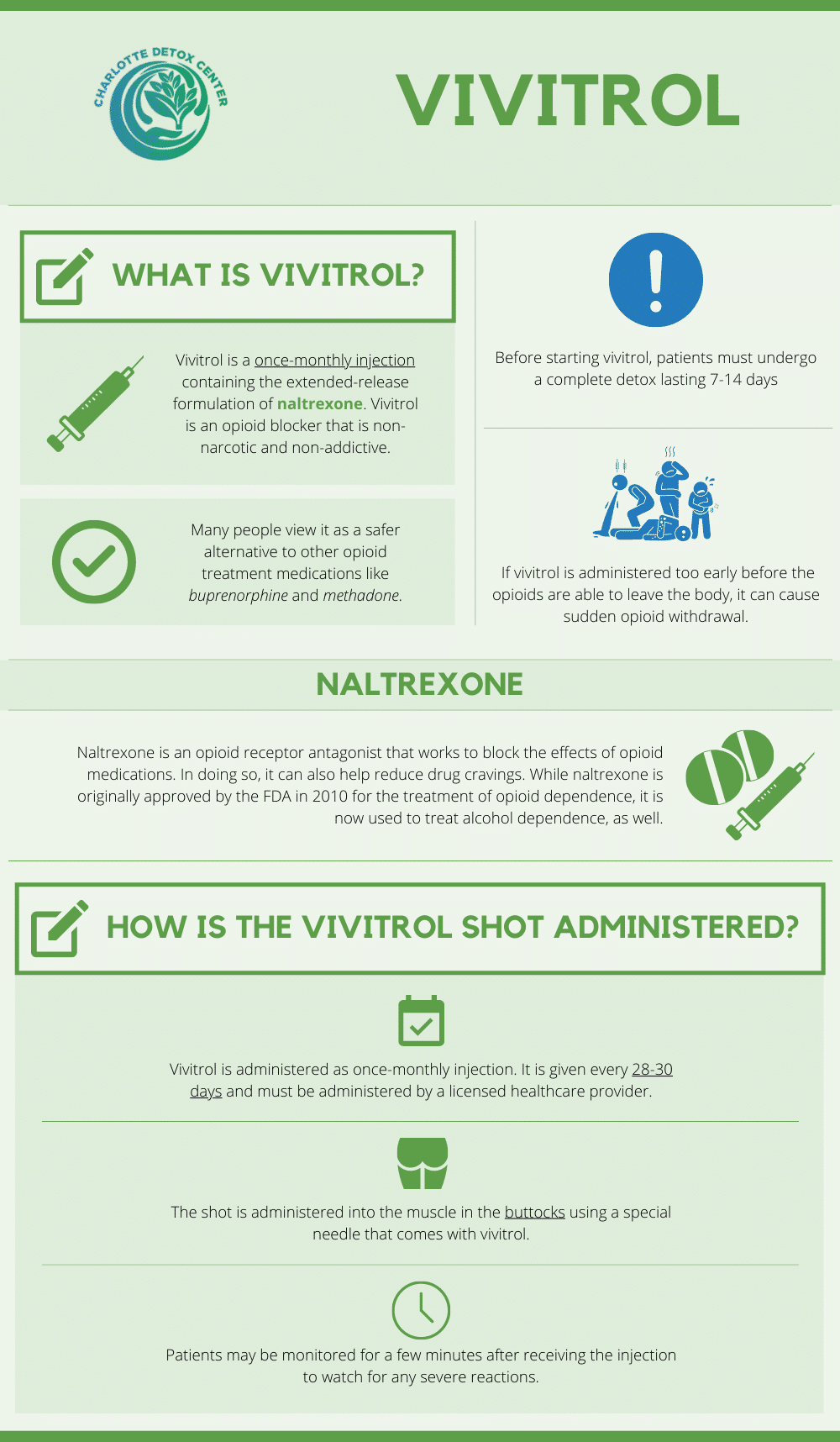 What is Vivitrol?
Vivitrol is a once-monthly injection that is used to treat alcohol and opioid use disorder. It contains an extended-release formulation of naltrexone, an opiate antagonist that blocks the effects of opioid medications. In addition to blocking the effects of opioids, it is also thought to help reduce cravings for drugs and alcohol.[1]
While Vivitrol is not intended to be used during detox, it can be used during rehabilitation to support patients who are in therapy. Cravings are a major obstacle that people in recovery must overcome. Vivitrol helps take care of cravings so patients can place their full attention on therapy and their personal recovery.
How is Vivitrol Administered?
Vivitrol is an intramuscular injection that is administered once every month. It must be given by a qualified physician who has undergone special training. The shot is given in the buttocks at a doctor's office or other medical settings. Patients must be completely detoxed and sober for 7-10 days before receiving their first shot.
The most common side effect of Vivitrol is pain, redness, itching, and irritation at the injection site.[2] This is a completely normal symptom that may occur with each injection. The injection site reaction should subside within 2-3 days as the medication is absorbed in the muscle.
How Does Vivitrol Treatment Work?
According to SAMHSA's guidelines on medication-assisted treatment (MAT), medications like Vivitrol work best when combined with a full-service addiction treatment program.[3] Here is what patients can expect when starting Vivitrol treatment in Charlotte, NC.
Medically-Assisted Detox
Patients cannot begin taking Vivitrol until they have detoxed from opioids or alcohol. Most patients will need to wait 7-10 days after starting detox before taking their first shot. However, the withdrawal period isn't easy, so medications may be prescribed to help patients through detox. Detox will also include counseling sessions, treatment referrals, and supportive care.
Naltrexone Induction
Vivitrol is an extended-release injection, and once it is given, it cannot be taken back. As a result, it is a good idea to make sure patients do not have an allergic reaction or serious side effects as a result of naltrexone. Many doctors will prescribe a period of naltrexone induction before starting Vivitrol. The induction period refers to a short period of time where patients take naltrexone in pill form before receiving the Vivitrol shot. Induction makes sure the body is able to tolerate naltrexone on a daily basis before giving the extended-release version.
Counseling and Behavioral Therapy
Vivitrol, like other medications used in addiction treatment, is most effective when combined with a comprehensive treatment program involving counseling, behavioral therapy, and peer support. While monthly injections are a major part of Vivitrol treatment in Charlotte, therapy is just as important because it facilitates the long-term healing necessary to stay sober. Types of therapy patients may encounter include:
Group and individual therapy sessions
Behavioral therapy (CBT, DBT, MI, REBT)
Holistic therapies (art, yoga, music, dancing, etc)
Gender-specific therapies
Dual diagnosis therapy
Trauma and PTSD therapy
Family behavior therapy
12-Step facilitation
Discharge Planning and Aftercare
Addiction is not cured with a 30, 60, or 90-day stay in rehab. Instead, it requires ongoing care. Before patients leave rehab, they meet with their doctor and substance abuse counselor to develop a discharge plan. Discharge plans include details for aftercare that are supposed to help people stay sober after detox and rehab. In addition to continued Vivitrol shots, aftercare programs in Charlotte, North Carolina may include:
Sober living
IOP or OP
Alumni groups
12-Step groups
12-Step alternatives
Individual counseling
Medication management
How Long Do People Stay on Vivitrol?
Vivitrol (naltrexone) is not habit-forming, so users do not experience symptoms of withdrawal when they miss a dose or stop taking the shot. As a result, there is no need to hurry nor delay stopping treatment. Some people will only need to take Vivitrol for several months, while others may continue taking it indefinitely. This is a decision that is made between a doctor and their patient based on the patient's needs and progress in treatment.
Start Vivitrol Treatment in Charlotte, North Carolina Today
If you or a loved one are addicted to opioids or alcohol, Vivitrol may be right for you. Here at Charlotte Detox Center, our qualified medical professionals are eager to help you find a treatment method that works. Get started today by speaking with an addiction professional about Vivitrol.
References:
Medically Reviewed: April 25, 2022
Medical Reviewer
Chief Editor
About
All of the information on this page has been reviewed and verified by a certified addiction professional.
Dr Ashley Murray obtained her MBBCh Cum Laude in 2016. She currently practices in the public domain in South Africa. She has an interest in medical writing and has a keen interest in evidence-based medicine.
All of the information on this page has been reviewed and verified by a certified addiction professional.