Addiction Treatment Options in Charlotte, North Carolina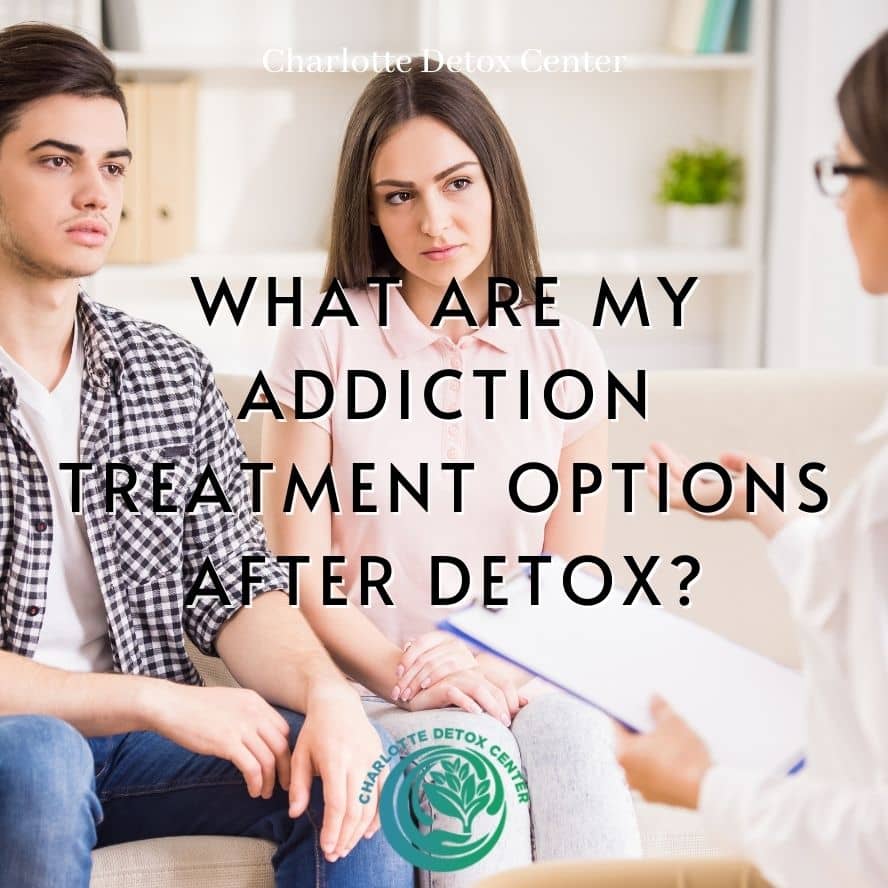 Addiction is often hard on your body. Untreated addiction can lead to serious, sometimes life-threatening harm to your short and long-term health and well-being. It can threaten your immediate safety and make it nearly impossible to live a healthy, fulfilling lifestyle.
While substance abuse and addiction can wreak havoc on your health, addiction is not just a physical disease. Untreated addiction also takes a toll on your mental health, prevents you from creating memories or pursuing new opportunities, and strains even your most loving relationships.
Many people who hope to leave addiction behind choose to stop seeking treatment after detox. They may hope that ridding their body of drugs and alcohol will be enough to cause meaningful, lifelong change. But this often isn't the case. Many who end treatment after detox experience a relapse–meaning they use substances after a period of abstinence.
Because addiction isn't simply a physical disease, it's crucial to seek treatment to address all the aspects of this condition–physical, mental, behavioral, and spiritual. You have many addiction treatment options to choose from, so it's important to choose the one that best meets your needs.
Do I Need Treatment After Detox?
Detoxification is the process of letting your body flush out toxins, including drugs and alcohol, and return to its natural state of functioning. While it's a natural process, detox can come with uncomfortable–sometimes life-threatening–withdrawal symptoms. During detox, medical and support professionals monitor your withdrawal symptoms and offer treatments that keep you comfortable during the process.
Some people believe that detox alone is enough to remain sober for the rest of their lives. But addiction is a complex condition. Treating the physical aspects of addiction alone is not enough to support lifelong recovery. Instead, people must participate in an addiction treatment program that can help them manage the physical, emotional, and behavioral aspects of addiction. Comprehensive addiction treatment programs often include:
Individual counseling
Group therapy
Family therapy
Education about addiction and sobriety
Skills practice
Mental health treatment
Medications
Holistic therapies like mindfulness, nutrition support, exercise, massage, and more
Without learning new skills to manage the symptoms of your addiction, you're more likely to relapse. Comprehensive treatment programs can help you identify the roots of your addiction, avoid relapse, and teach you practical, effective ways to live a healthy, sober lifestyle.
What Are My Addiction Treatment Options?
Because each person has their own experiences and unique needs, addiction treatment occurs in many settings and several levels of care. Before beginning treatment, a doctor or medical specialist will perform an assessment that will help determine which level of care and type of treatment you require. The evaluation will consist of questions about your substance use, treatment history, medical and mental health history, and other important information.
There are many types of addiction treatment programs available. Ultimately, the right program for you is the one that offers the level of treatment you require and can meet any special requirements you have. This may include:
LGBTQ+-centered treatment
Gender-specific rehab
Holistic rehab
Religious or spiritual care
Dual-diagnosis treatment (treatment for mental illness and addiction)
Once you know which level of care you require, you may search for a rehab center that provides the treatment you need.
What Are the Levels of Care After Detox?
There are several levels of care in addiction treatment. Each level of care is designed to meet people's specific needs and offer the care people need to recover from addiction. Treatment staff tailors treatment plans to meet each person's needs and help them achieve recovery goals.
The levels of care after detox are:
Outpatient treatment programs
Intensive outpatient treatment programs (IOPs)
Partial hospitalization programs (PHPs)
Inpatient care
Residential treatment
Each level of care has its own requirements and structure. Generally, outpatient programs are more flexible than inpatient or residential programs but can take longer than more intensive levels of treatment.
Understanding your needs and treatment requirements is essential before choosing a rehab center.
What to Do After Detox and Treatment to Support Lifelong Recovery
Addiction can never be cured, only managed. After completing detox and treatment, you must build new habits that help you live a healthy, sober lifestyle. To remain committed to sobriety for life, you have to stay engaged in your recovery by following an aftercare plan. Some ways people do this include:
Participating in individual counseling
Joining a support group
Attending 12-step meetings
Participating in sober meetups and events
Joining a local alumni group
Finding a supportive sober coach or mentor
Participating in holistic therapies that support recovery and overall wellbeing
You may create your aftercare plan during treatment and adjust it as time goes on or your recovery needs change.
Recovering from addiction may require time, energy, and patience, but the benefits are worth the effort. Learning how to manage this condition can give you the freedom to live the life you choose for yourself–instead of the one your addiction chooses for you.
Wondering What to Do After Detox? Learn About Your Addiction Treatment Options in North Carolina
You don't have to live with substance abuse or addiction alone. If you're ready to take the first step toward recovery or want help deciding what to do after detox, reach out to the Charlotte North Carolina Detox specialists for help.
Medically Reviewed: April 25, 2022
Medical Reviewer
Chief Editor
About
All of the information on this page has been reviewed and verified by a certified addiction professional.
Dr Ashley Murray obtained her MBBCh Cum Laude in 2016. She currently practices in the public domain in South Africa. She has an interest in medical writing and has a keen interest in evidence-based medicine.
All of the information on this page has been reviewed and verified by a certified addiction professional.