Medication Assisted Treatment - North Carolina Drug and Alcohol Detox
Due to the ongoing opioid epidemic in America, addiction treatment centers must be armed with a safe and effective treatment plan for opioid addicts. In fact, nearly 130 people die each day due to drug overdoses – proving that providing effective help is more urgent than ever. Luckily, there is a treatment that is known as highly effective in the treatment of opioid addiction. Known as medication-assisted treatment, this addiction recovery method has saved hundreds of thousands of lives.
Medication-assisted treatment (MAT) is primarily used in the treatment of opioid or alcohol addiction. Furthermore, this treatment method provides patients with a full treatment approach through the use of counseling, behavioral therapies, and life-saving medications. Extensive research has shown that medication-assisted treatment successfully treats addiction disorders as well as helps to sustain sobriety for those who struggle. If you or a loved one are struggling with opioid addiction, medication-assisted treatment may be for you.
Facts About Medication-Assisted Treatment (MAT)
According to the Substance Abuse and Mental Health Services Administration, medication-assisted treatment is defined as, "the use of FDA-approved medications, in combination with counseling and behavioral therapies, to provide a holistic approach to the treatment of substance abuse disorders". The FDA-approved medications used in medication-assisted treatment include Suboxone, Methadone, and Vivitrol. These medications are used to ease uncomfortable opioid withdrawal symptoms. In addition, some of these medications help to curb drug cravings – making sobriety easier to sustain.
Additionally, medication-assisted treatment is meant to be used in concurrence with behavioral therapies and counseling. In order to fully treat addiction, it is vital to treat the root cause of a patient's substance abuse. Equally important, patients will have the opportunity to complete family therapy and attend 12-step meetings that help to enrich one's sobriety. Fortunately, patients who undergo medication-assisted treatment combined with therapy and recovery meetings tend to build a strong foundation for lifelong sobriety.
Methadone
Methadone is one of the most well-known medications among the opioid addiction recovery community. This medication is a full opioid agonist, meaning it combines with opioid receptors in the brain to produce the desired effect. As a result, patients who are detoxing from opioids who take this medication will achieve reduced withdrawal symptoms and cravings.
Contrary to common belief, methadone does not provide patients with a "high" or euphoric feeling. In fact, this medication blocks the euphoric effects that opioids typically provide. Typically, methadone is provided as a once-per-day liquid medication. Methadone is not dangerous unless taken improperly. Unfortunately, methadone has the potential for abuse if not administered properly. Therefore, this medication is only provided by a licensed doctor in order to prevent potential harm.
Suboxone (Buprenorphine)
Unlike methadone, suboxone is only a partial opioid agonist. Partial opioid agonists do not fully bind to opioid receptors as full opioid agonists do. Suboxone is comprised of buprenorphine and naloxone. This medication has been proven effective in treating opioid withdrawal symptoms as well as decreasing the patient's opioid cravings. In addition, if a patient attempts to abuse opioids while taking suboxone, the individual will experience adverse results. This is because suboxone contains naloxone, a medication that counteracts opioid receptors in the brain.
Vivitrol (Naltrexone)
Vivitrol (naltrexone) is an opioid antagonist, meaning it blocks opioid receptors in the brain. This medication is used in the treatment of opioid or alcohol dependence. When administered, Vivitrol is given as a once-a-month injection. Additionally, this naltrexone-based medication relieves opioid and alcohol cravings, alleviates symptoms of withdrawal, and prevents overdose from occurring.
Before a patient can begin Vivitrol treatment, they must have been sober from opioids and alcohol for 14 days. This is because Vivitrol is meant to be used to prevent relapse in patients who are clinically sober from alcohol or opioids. Naltrexone, the main ingredient in Vivitrol, can help to alleviate the feeling of "needing" to take opioids or drink alcohol. Lastly, this medication is only administered by licensed medical professionals – typically in a medical detox facility.
How Effective is Medication-Assisted Treatment?
While everyone recovers from addiction in their own way, medication-assisted treatment has been proven to be one of the most effective methods of recovery. In fact, according to research,  "MAT significantly increases a patient's adherence to treatment and reduces illicit opioid use compared with nondrug approaches".
Medication-assisted treatment is mainly effective due to the medications alleviating severe physical, mental, and emotional symptoms of withdrawal.
Common withdrawal symptoms that medication-assisted treatment can alleviate: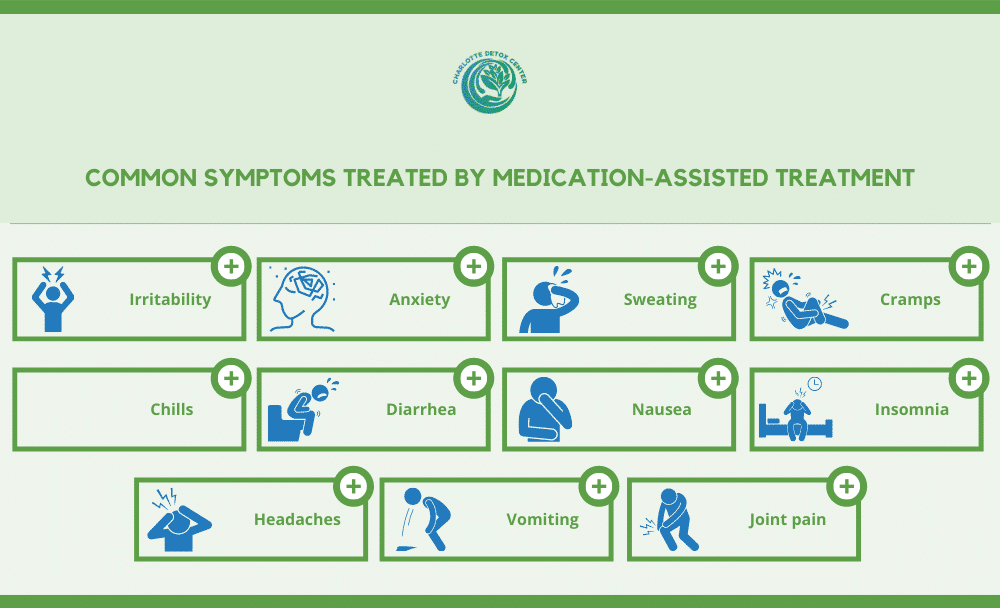 Irritability
Anxiety
Sweating
Cramps
Chills
Diarrhea
Nausea
Insomnia
Headaches
Vomiting
Joint pain
When patients no longer have to deal with uncomfortable withdrawal symptoms, they are able to fully focus on other aspects of recovery. Therefore, medication-assisted treatment allows patients to heal from all aspects of addiction rather than just removing the substances from one's body. Medication-assisted treatment focuses on the patient's individual needs while creating a foundation of support from staff, peers, friends, and family. As a result, patients are able to achieve their lifelong goals of recovery.
Medication-Assisted Treatment in North Carolina
Medication-assisted treatment is often a vital step in one's recovery. If you or a loved one are suffering from opioid or alcohol dependence and are in need of help getting sober – medication-assisted treatment may be for you. Many addicts and alcoholics struggle to stay sober after detox due to environmental, psychological, and physical factors. Due to this, medication-assisted treatment specializes in treating all aspects of one's addiction. With the combination of comfort medications, behavioral therapies, support, and counseling, recovery is possible and sustainable. Call us today!
Medically Reviewed: April 25, 2022
Medical Reviewer
Chief Editor
About
All of the information on this page has been reviewed and verified by a certified addiction professional.
Dr Ashley Murray obtained her MBBCh Cum Laude in 2016. She currently practices in the public domain in South Africa. She has an interest in medical writing and has a keen interest in evidence-based medicine.
All of the information on this page has been reviewed and verified by a certified addiction professional.