Vivitrol vs. Suboxone - North Carolina Drug and Alcohol Detox Center
The opioid epidemic continues to affect families across the country. Fortunately, addiction treatment specialists have found safe and effective medications for patients fighting substance abuse. Vivitrol and Suboxone are both medications used to treat opioid use disorders. While these medications are administered differently, they both work the same way in the brain. In the addiction recovery community, utilizing these medications is known as "medication-assisted treatment". This form of treatment is the preferred method for treating opioid addiction at detoxes in North Carolina. Medication-assisted treatment includes the use of behavioral therapies, counseling, and pharmacological intervention.
While medication-assisted treatment has faced some controversy, doctors only utilize this method of addiction treatment when necessary. Unfortunately, getting sober from any substance can be extremely mentally and physically taxing. When it comes to detoxing off of opioids, the withdrawal symptoms can be excruciating. However, with the use of medications like Suboxone, any withdrawal symptoms can be reduced significantly. As a result, patients will experience fewer drug cravings and higher rates of success.
What is Vivitrol?
Vivitrol is a prescription medication that is approved for use in the treatment of opioid or alcohol addiction. Additionally, this medication is used for the prevention of opioid dependence after attending detox in Charlotte, North Carolina.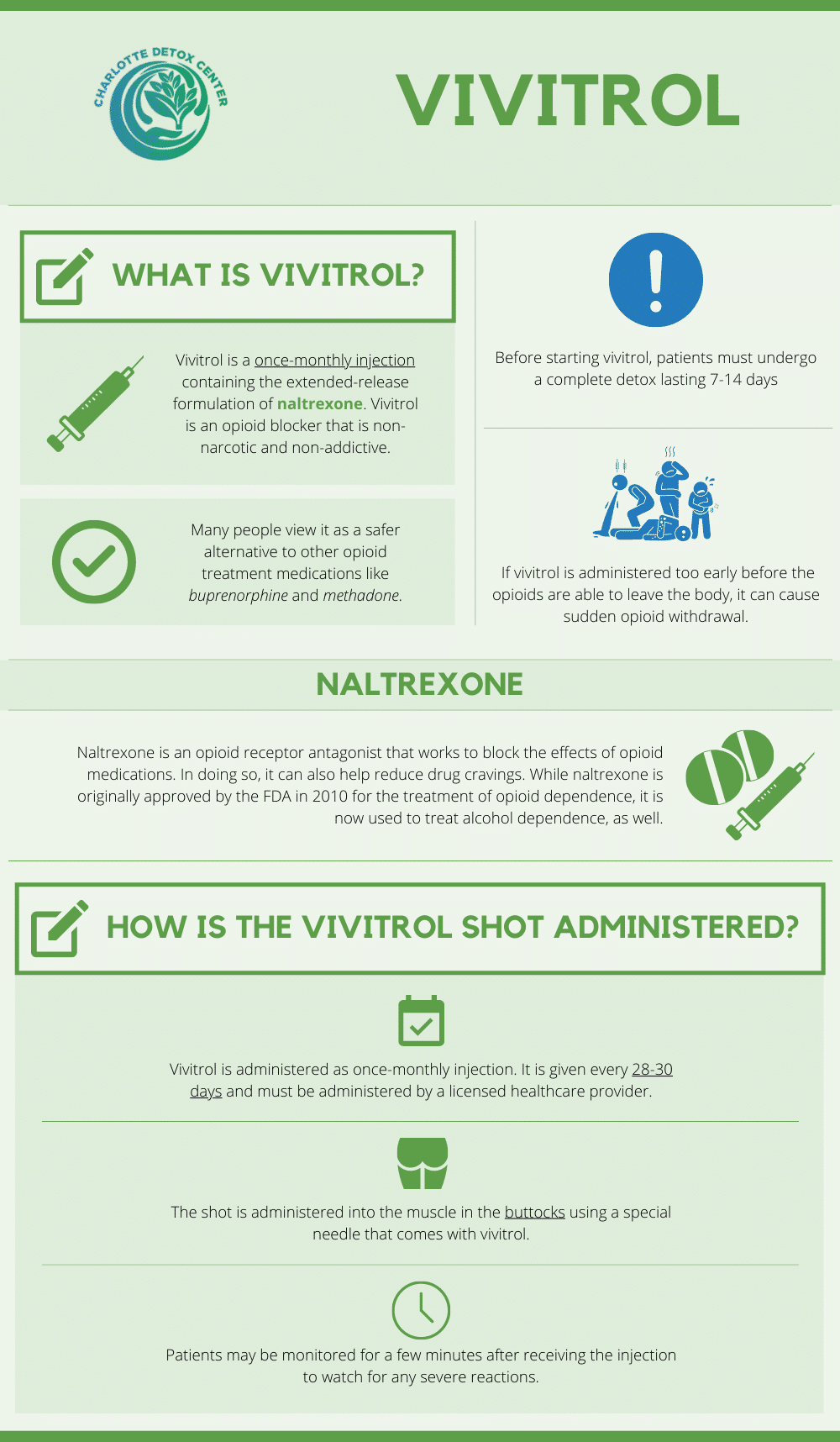 In order for patients to qualify for a Vivitrol shot at a detox in North Carolina, they must be clean from opioids for 7-10 days. Additionally, they must stop drinking alcohol and complete detox before the shot. This is because when a patient receives a Vivitrol shot too early, they will go into immediate withdrawal. In order to receive a Vivitrol shot, it must be administered by a licensed medical professional. Vivitrol shots last up to 28 days, making it easier to maintain than other medications like Suboxone. However, Vivitrol does not treat withdrawal symptoms and can be costly. If you are looking into medication-assisted treatment for alcoholism, Vivitrol is the best option.
Benefits of Vivitrol
For anyone weary of using addictive medications, Vivitrol is the best option. Vivitrol is non-addictive and can provide many benefits in the treatment of opioid or alcohol addiction, such as:
Reduced cravings
Blocking opioid receptors, preventing patients from being able to get high
Preventing relapse due to the possibility of withdrawal symptoms
Extended-release injection given monthly
Increase in treatment retention rates
No potential for abuse or addiction
Like any medication, Vivitrol is not for everyone. If you or a loved one are interested in receiving Vivitrol treatments at a detox in North Carolina, contact your doctor to see if you qualify.
Risks of Vivitrol
Vivitrol should only be administered to patients who are dedicated to sobriety. While there are many benefits of Vivitrol, there are also risks to be aware of:
You must complete a 7-10 day detox before you can start taking Vivitrol.
Naltrexone can reduce opioid tolerance and cause sensitivity to the same, or even lower doses of opioids. This increases the risk of overdose.
Vivitrol shots last for up to 28 days. If you suddenly need to be administered opioid pain medication, special measures will have to be taken.
Taking Vivitrol at a detox in Charlotte, North Carolina can provide recovering addicts with the help they need to begin a life in sobriety. If you or a loved one think you want to undergo Vivitrol treatment, talk with a medical professional about your options today.
What is Suboxone?
Suboxone is an opioid medication, containing buprenorphine and naloxone, used to treat opioid addiction. Many people believe that using an opioid to treat an opioid makes no sense or, "defeats the purpose". However, Suboxone does not react in the brain in the same way as other forms of opioids. In fact, Suboxone only partially stimulates opioid receptors. This means that the euphoria and high feeling that users get from other forms of opioids is not achievable with Suboxone.
Because Suboxone only gives patients a portion of the "high" they would experience on other opioids, it works well in the reduction of withdrawal symptoms. Suboxone is meant to be used as a tapering medication in order to make the detoxification stage of recovery as painless as possible. Additionally, this medication can be administered as a sublingual film (Suboxone), sublingual tablets (Zubsolv), or as a once-a-month, extended-release injection (Sublocade). Suboxone will dissolve under the tongue, enter the bloodstream, and begin to treat opioid dependence. Lastly, Suboxone is more cost-effective than Vivitrol. However, most patients in a detox in Charlotte, North Carolina have to take this medication more often than once a month. Furthermore, Suboxone is not approved for the treatment of alcoholism – making this medication more beneficial for recovering opioid addicts.
Benefits of Suboxone
Suboxone has been approved by the FDA for a variety of uses, the most common being opioid addiction treatment. Some of the many benefits of Suboxone include:
Reduced opioid withdrawal symptoms
Treatment for chronic pain and opioid dependence
Improvements in depression symptoms
Lower rates of transmitted bloodborne illnesses
Higher treatment center retention rates
Reduced chance of relapse
Suboxone can be used as a short or long-term solution to opioid dependence. However, it is recommended to be utilized in concurrence with other addiction treatment methods.
Risks of Suboxone
Every medication comes with benefits and, unfortunately, risks. Before taking Suboxone, you should consult with your doctor about the following:
Because Suboxone contains buprenorphine, an opioid, there is a risk for abuse
If misused, Suboxone can cause severe withdrawal symptoms because it contains naloxone, an opioid antagonist
Only prescribers licensed to prescribed buprenorphine can treat you with this medication
If you or a loved one are interested in receiving suboxone treatment at a drug detox in Charlotte, North Carolina, contact us for more information.
Medication-Assisted Detox in North Carolina
When comparing Suboxone and Vivitrol, it is important to keep in mind that every medication comes with pros and cons. Whether Suboxone or Vivitrol will work best for you completely depends on your personal and medical history. While Suboxone may be great for one person, it may become addictive to another. Therefore, consulting with a medical professional is a vital step in the process of medication-assisted addiction treatment in Charlotte, North Carolina.
At Charlotte Detox Center, we work with our patients in order to decipher what method of treatment will produce the best effects. Our first priority is to help our patients to build a strong foundation of recovery, allowing them to reach their full potential. If you or a loved one are in need of medication-assisted treatment, look no further. Call us today.
Medically Reviewed: April 25, 2022
Medical Reviewer
Chief Editor
About
All of the information on this page has been reviewed and verified by a certified addiction professional.
Dr Ashley Murray obtained her MBBCh Cum Laude in 2016. She currently practices in the public domain in South Africa. She has an interest in medical writing and has a keen interest in evidence-based medicine.
All of the information on this page has been reviewed and verified by a certified addiction professional.